| ホーム |
For Oversea (How to order)
1
.Customers overseas can order our items from our agents overseas.
If your country does not have our agent or our agent does not have goods you need, please use
this WebShop
.
Unfortunately, our WebShop is for Japanese, so when you order from overseas,
please order our items by
this mail form
.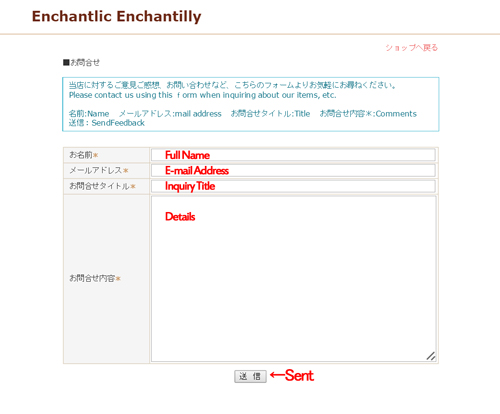 Please kindly be sure to check following attention.
2
.Please input everything in English.
*Product code
*Color
*Price
*Name
*Address
*City
*Country
*ZIP (Postal) code
*Telephone number
*Paypal e-mail address

Please write your address correctly and in full.
We will send you an invoice included the goods price and postage for EMS using Paypal.
Please pay within 10 days after you receive the invoice.
our Paypal address; chantilly_mimidy@yahoo.co.jp
Aattention
We can not accept your order when your name and address is not the same as the name and address in Paypal.
Also, we can not accept when the receiver's address is different from you.
(To avoid accidents while shipping)
3
.You can pay by only Paypal.
Bank transfer is not accepted.
4
.Shipping weight;
Our goods are sent by
EMS
.
The total weight calculated will be informed you by e-mail.
5
.If goods you receive is defective;
We are inspecting our items thoroughly, however unfortunately,
there is a bare possibility of overlooking.
If you find our items to be defective, please inform us by e-mail within 3 days.
6
.Business days;
We are open except weekends.
A reply to your mail will generally be sent within 5 days.
Please kindly understand that our reply will be delayed
when it is on weekends and we join in events.
If you do not receive our reply, please check our event schedule.
And please kindly send e-mail to us again for confirmation.
If you can not send us e-mail because of servers,
please send your massage from fan page of Facebook.
7
.Notice for customers using overseas mail order
Postage is about JPY2.000 when you order our items over JPY5.000.
So, we believe if you order our items under JPY5.000 in total, it may not be economical.
It is highly recommended when you order, the cost for the total of your items comes over JPY5.000.
Thank you for understanding.
8
.We can not accept "undervalue"
We can not accept "undervalue" some customers request.
If your items should run into trouble like missing while shipping, there is a possibility that
you can not only get your items, but get a refund as well.
Please kindly understand that we can not accept "undervalue" to protect your items and to keep the shipping smooth.
We thank you for your continuous support.
| ホーム |